You never know when the weather will take a turn for the worse, but you can always be prepared. These items of clothing ensure that you can go anywhere you like with comfort and protection from the elements.
Kozee Kape
This cover encapsulates the scooter providing a totally dry environment for you and the controls. The snug-fitting pack-away hood ensures that you're only exposed part has maximum protection. The tailored front allows the cover to be used with either 3 or 4-wheeled scooters, and the clear front improves safety by allowing your lights and indicators to be seen whilst being protected. The cover also has velcro slots at each side of the clear front that allow easy fitting over the scooter mirrors. The back panel goes over the back of the scooter protecting anything in your scooter bag. One universal size suitable for most medium or large 3 or 4-wheeled scooters. Available in grey, maroon and royal blue.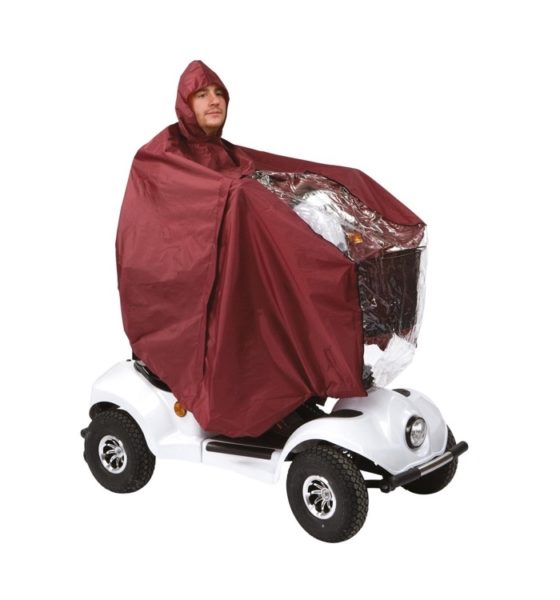 Kozee Toze
This cover has been specifically designed with a waterproof outer and a luxurious fleece liner to offer the scooter user as much warmth and protection as possible. The open bottom style allows your feet to straddle the centre wheel arch or put your foot out when manoeuvring around corners. The full-length open-ended zip fastens from the top down allowing you to mount or dismount with maximum ease. The bottom of the cover has a wipe clean nylon skirt to protect your feet. This cover can be used with a scooter and if used with either the Kozee Scoota Kape or Kozee Skoota Mate, you will be in a warm, dry cocoon. Available in grey, maroon and royal blue.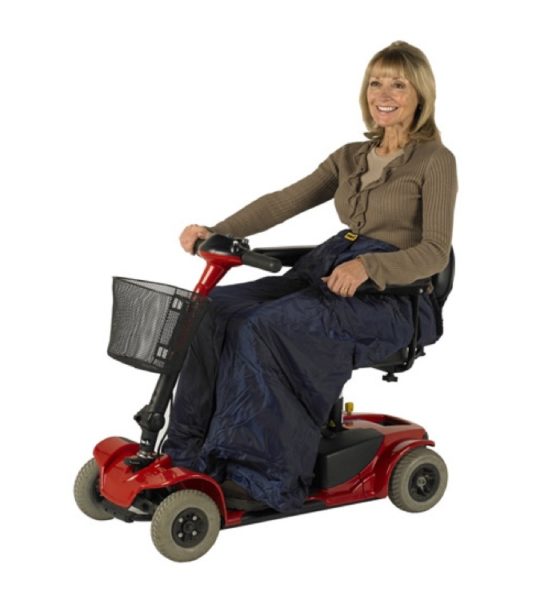 Kozee Mate
The Skoota Mate has been designed to offer maximum flexibility without compromising on protection. The snug-fitting pack-away hood, comfortable elasticated cuffs, and neckline zip combine to offer maximum protection without hazards or restrictions. The hemline is elasticated around the back, preventing it from blowing up in a strong wind. The inclusion of the pouch pocket makes this particularly useful garment even better, as it can be carried in the basket at all times.